Reputation
5

5

29

8

5

Total number of votes: 52 (list)
Average ranking: 3.0000
Activity
**[SS]** have played a total of
64
matches, of which they challenged
30
themselves.
The number of 'Noshows' of **[SS]** is
7
(0 in the past 30 days).
They never forfeited a match.
The past 30 days they played matches in
0
different ladders.
Matchreports
Below are the matchreports that opponents of **[SS]** wrote. This will give you some idea about them.
Great Match once we got started

In future if you could make sure your team is ready at the start time and give us the correct server details.

Also - you need to get into uac and the server and stop dropping out, I noticed some of your guys dropped out of uac and another one kept dropping from the server.

Other than that, good game and look forward to seeing you and maybe playing you in the furture.
Angelus Noctis
Vs.
Steel Soldiers
First map:
Summit
Angelus Noctis
[ 18 - 3 ]
SS
Second map:
Jungle
Angelus Noctis
[ 16 - 3 ]
SS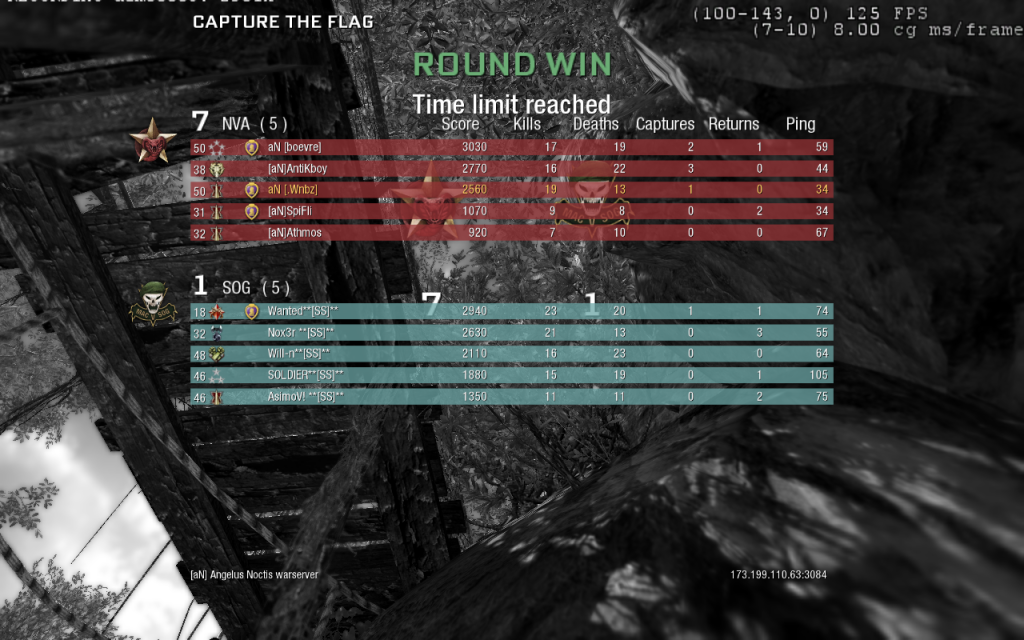 Final Score:
aN
[ 34 - 6 ]
SS
LINEUP:
Anti-Kboy
boevre
SpiFli
Athmos
.Wnb`
_____________________________________________________________
gg
- Angelus Noctis ~~ http://www.angelusnoctis.tk
GB-UK*
Vs.
Steel Soldiers
First map:
GB-UK*
[ 19 - 1 ]
Steel Soldiers
Being very aggressive we pushed SS all the time with set-nades killing most of there team straight away they started to camp it up so we stopped the set-nades and rushed silently instead, gaining a big lead almost instantly.
Second map:
GB-UK*
[ 4 - 0 ]
Steel Soldiers
Only needed 2 rounds but we stayed for 4 has they had player problems being kicked for various things, we took the 4 rounds pretty easily before they left.
Final Score: GB-UK* [ 23 - 1 ] SS
GG wp lads, unlucky
- GB-UK*
Links:
- Contact GB-UK*:
Click here
Segunda vez que no se presentan, lo peor es que ni avisaron ni nada. Es dificil reunir a todos lo de mi klan para jugar una war y lo que sabe mal es que el oponente no se presente.
Estuvimos esperando y no se presentaron, aunque dijeron que la proxima se presentarian
Vergonzoso! encima de no presentarnos nos intentais tramear! es lo que pasa por ser un clan de palo, no nos esperabamos menos.
Buenos adversarios, buena war, y sin problemas. Un partido bastante interesante y que gracias al nivel de la war estuvo interesante todo el partido. Agradecemos a los SS su comportamiento y dedicación. Aconsejados para cualquier evento.
Un saludo
GG

Too bad you had bad ping on our server, but it is not our fault you didnt have a streaming server..
GL on the ladder.
buen mapa el vuestro ya mismo nos ganais y nos echais al ultimo puesto de cb hasta pronto que nos volveremos a retar

Clan ToCP wins 21 vs 19 of clan SS.
GG. Nice Oponent. You see in next wars
Good game guys, see you!!
Buen partido por parte de ambos equipos.

Nuestro TeampLAY eran.

NooKie
kho
kev|aR
CrIpI
FLECH
Line-up:

Oskito, Kazama, TrOt4.

gg, buena war chavales.